One of our primary goals when we created Busy Dog was to find ways to include kids involved in training. From the simple act of allowing kids into our group classes, to summer camps, to having a supply of coloring pages for our littlest clients we will always do our very best to support your young dog trainers.
For that reason, we're introducing kids' classes to the Madison area. Check back often as we include classes such as agility and parkour, nosework, and tricks classes and workshops especially for kids!
*All dogs enrolled in one of our kids classes must be both kid and dog friendly. At least one adult must be present per dog every class.
Our classes are taught in several locations to held you find an option that works best for you!
– on the west side of Madison, at Passion for Paws.
– on the north side of Madison, at Dog Dog Daycare.
– in Stoughton, at Pups Unleashed
Classes are 45 minutes, and include six weeks of instruction.
$150.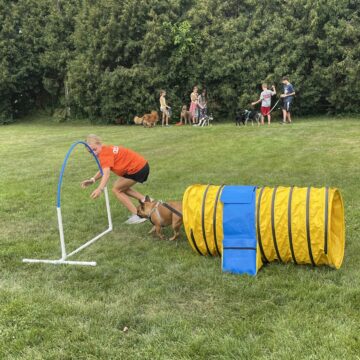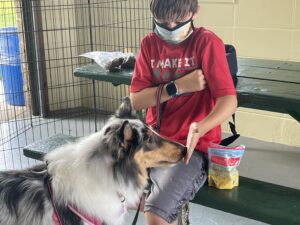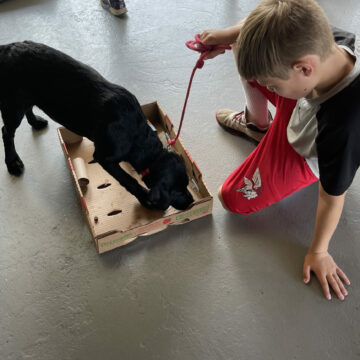 Busy Kid, Busy Dog
Junior handlers ages 8-12 will learn how to "speak dog", how to approach (or not approach) dogs, about how dogs learn and perceive the world, and how to motivate and train their dog. Kids will teach their dogs some new tricks and get an introduction to agility, parkour, basic obedience, and nosework. Kids and dogs will play games together that will strengthen their relationship while working on skills like "drop it", recalls, impulse control, attention work, petting skills, and more!
5 weeks, 45 minutes.
$125
No prerequesites.
NEXT SESSION BEGINS:
Junior Handler Agility
Agility is a great way to keep your dog's mind and body active and healthy while helping you and your pup bond and work as a team. In this class, we will introduce junior handler's ages 12-18 and their dogs to essential pieces of agility equipment, as well as start working on the techniques and behaviors that they will need as they continue your training.
6 weeks, 45 minutes.
$150
No prerequesites.
NEXT SESSION BEGINS:
Fun and Games Workshop
Bring your family for this fun one hour workshop featuring games and tricks the whole household can play with your dog! Includes some parkour, nosework, and DIY boredom busters great for keeping everyone entertained and busy during the winter months. For kids of all ages, each family should have at least one adult
1 Hour workshop
$35
No prerequesites.
February 26th at 11:00 a.m. at Pups Unleashed (Stoughton)
Dog class is better than piano lessons!
-Polly, age 7